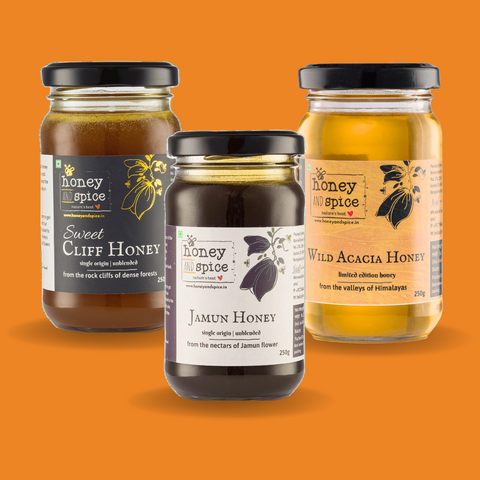 Honey and Spice
WELL-BEING COMBO
Rs. 969.00
Rs. 1,140.00
you save Rs. 171.00
GRAB THIS WELL-BEING COMBO FOR ONLY RS. 969.
We have a freshly harvested batch from Central Indian Jamun Flowers, Acacia honey is a treasure from the Himalayan region and Sweet Cliff honey is harvested from wild beehives in the forests of Chattisgarh. 
Now available in a combo of three for you to try these Well-being Combo. 
Jamun Honey - 250gm 
Wild Acacia Honey - 250gm
Sweet Cliff Honey - 250gm 
Introducing:
Honey culture for well-being!
If every one of us made sure that we consume at-least a spoon of honey everyday, we will definitely lead a healthier life. We at Honey and Spice want to bring Honey culture into our lives where every morning starts with a glass of warm water and honey.
Well-being Combo!
Towards this we are bringing you our Well-being combo carefully curated with three unique and rare honeys, Cliff Honey from the forests of Chattisgarh, Jamun honey from the Jamun orchards and Acacia honey from the valleys of Kashmir.
Good quality
I really the taste and flavour of the Honey .
I truly enjoy the varieties.
Product
I got this product a few weeks ago..It was so good and the taste was so good.. I loved this honey
Excited to be part of this Honey culture!
I've been a regular user of Honey & Spice honey and I started consuming a morning drink made of Honey, Lemon and warm water after seeing one of their Emails and it has done wonders to my health.
To be specific, I am much more flexible when I do my morning exercise/yoga, my body feels alive and vibrant throughout the day, my skin has literally started glowing and the number of times I fall sick has come down drastically.
Super happy to see that Honey & Spice has launched a Well-being combo, thought I should share my experience.
Excited to be part of this Honey culture!
Cheers to everyone who consumes a honey drink in the morning :)