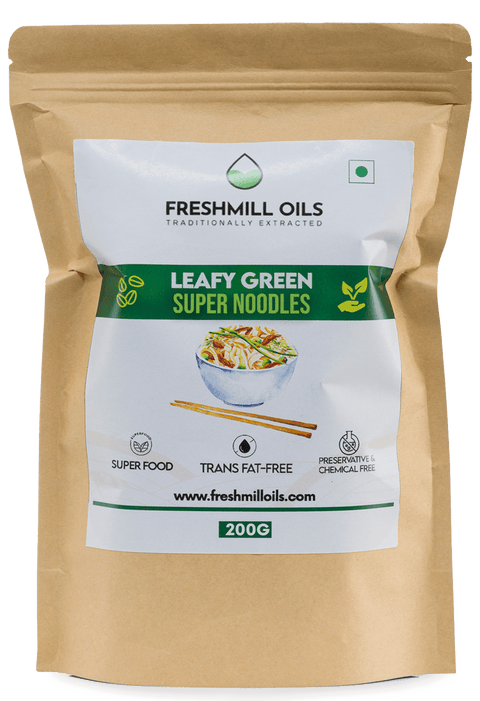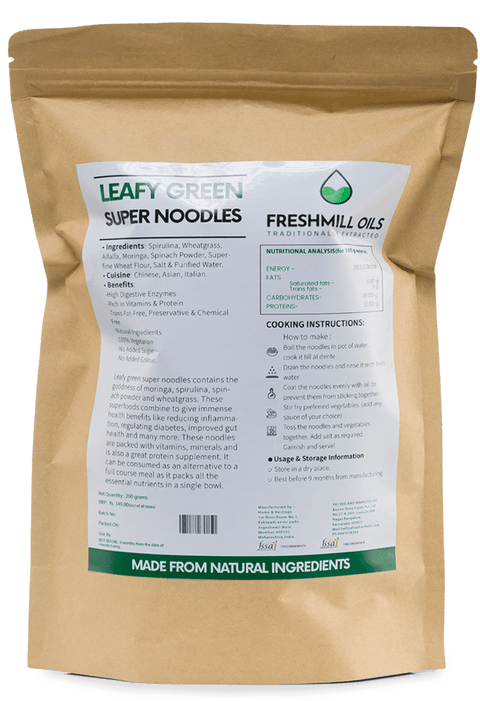 Honey and Spice
Leafy Green Super Noodles 200gm
INGREDIENTS:
Spirulina, Wheatgrass, Alfalfa, Moringa, Spinach powder, Super-fine Wheat flour, Salt & Purified Water.
Cooking instructions:
-Boil the noodles in a pot of water, cook it till all is done.
-Drain the noodles and rinse them with fresh water.
-Coat the noodles evenly with oil to prevent them from sticking together.
-Stir fry preferred vegetables.
-Toss the noodles and vegetables together. Add salt as required.Garnish and serve.
-Leafy green super noodles contain the goodness of moringa, spirulina, spinach powder and wheatgrass.These superfoods combine to give immense health benefits.
-These noodles are the source for vitamins, minerals and also a great protein supplement.
-It can be served as a full course meal and packs the essential nutrients in a single bowl.
Cuisine:Chinese,Asian,Italian.
Net quantity:200 gms
Leafy Green Super Noodles are simply amazing!
I have ordered the Leafy Green Super Noodles for the second time. Personally, I believe it offers real good quality and supply good nutrients to our body. My kids loved the product so much that they keep asking to have them frequently now-a-days which is very unlikely for them as they never liked oily fast foods like noodles, chow meins etc. before. Appreciate the launching of yet another healthy product we can trust on. We indeed think, the product is simply amazing!
Wonderful!!
V quick to cook and easy to digest.. and tastes great!!