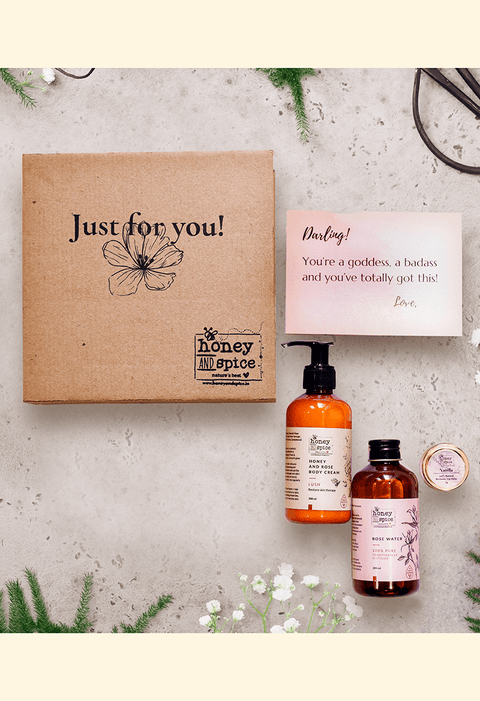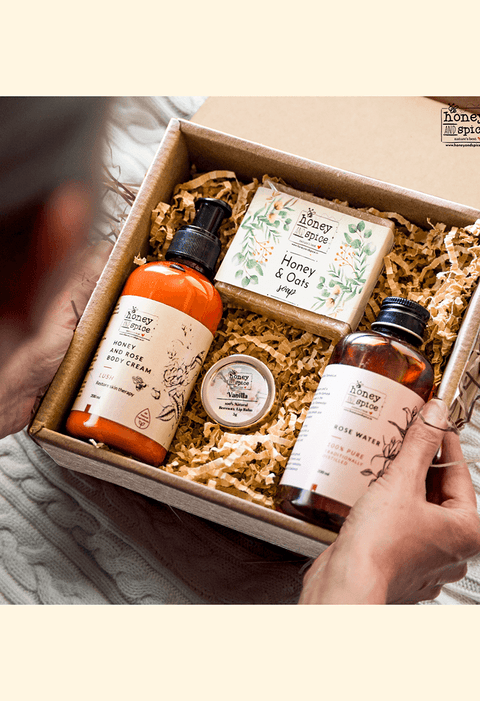 Honey and Spice
Gift for Her!
Rs. 999.00
Rs. 1,180.00
you save Rs. 181.00
The gift box includes:

* Honey & Oats Body Soap
* Honey & Rose Body Cream
* Rose Water
* Luscious Vanilla Lip Balm

The box comes with a message card.

Now what are you waiting for?
Gift your woman who is your inspiration and runs the world like a Boss!
Perfect gift
This was a gift to my friend and she loved it. Thank you honey and spice for expedting and delivering this in time.
Gift for her!
To be honest, I fell in love with the whole package. What a lovely idea with wonderful products at such a reasonable price! All the products I used were of premium quality.
I absolutely loved the vanilla bees wax lip balm. It is so moisturising and doesn't leave your lips chapped at all. Talking about the body lotion, it was really good. Although, the rose fragrance was a bit too much for me, the absorption of the product is flawless.
Rose water was so aromatic, it works great as a face toner.
The oat glycerin soap however made my skin a little dry. Sadly, it didn't meet my expectations.
Overall, it rate a 4/5 for the whole hamper!
Just wonderful
Very good and effective..feel is genuine...Excellent products from honey n spice