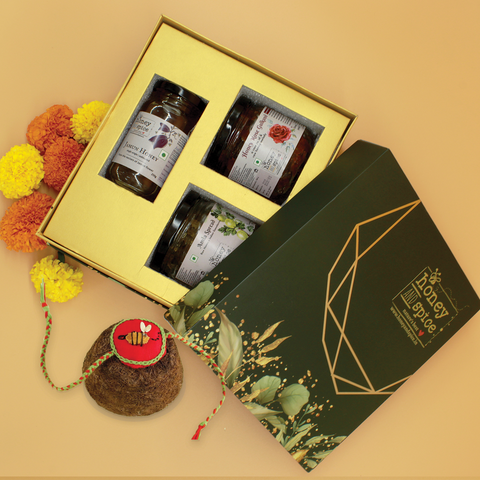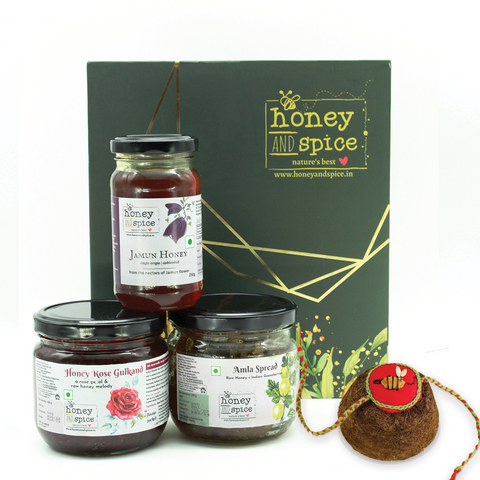 Honey and Spice
Gourmet Collection for Raksha Bandhan
Our newly launched Gourmet box contains the following:
Jamun Honey 250gm:
Sourced from the nectar of Jamun flowers, this sweet and sour jar is a surprise for your tastebuds. Its low glycemic index makes it an excellent elixir for managing sugar levels and weight.
Honey Rose Gulkhand 400g:
This traditional Indian recipe is enhanced with pure honey mixed with Indian Damask Rose. Gulkand is a good source of antioxidant, reduces stomach acidity, helps improve appetite and digestive problems.
Amla Spread 350g:
One is sure to enjoy this spread when health meets flavour. The combination of  two superfoods, Indian Gooseberry and Raw honey make the Amla spread a perfect complement to your meals.
 A perfect gift for your loved ones which is healthy, nutritious and super tasty.
This year, celebrate the Raksha Bandhan with Honey and Spice! Each gift comes with an eco-friendly seed rakhi and card for your loved ones! Celebrate the bond that lasts a lifetime.