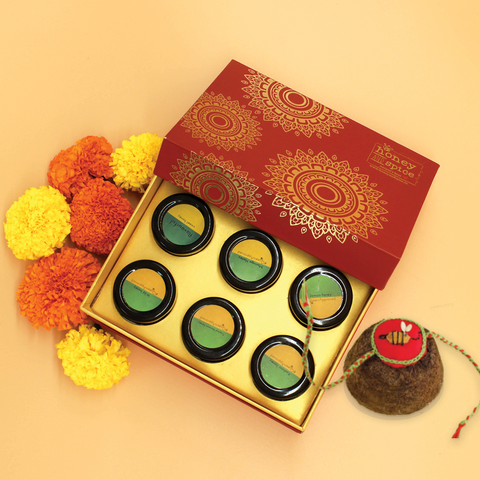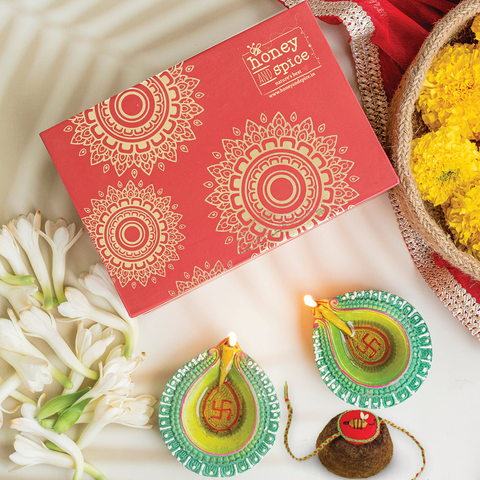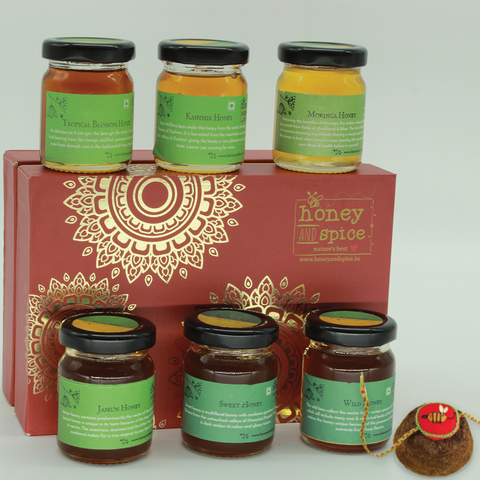 Honey and Spice
Assorted Honey Collection for Raksha Bandhan
Our Assorted Honey collection gift box contains 6 jars of our most popular honeys.
Jamun Honey 70g:
Sourced from the nectar of Jamun flowers, this sweet and sour jar is a surprise for your tastebuds. Its low glycemic index makes it an excellent elixir for managing sugar levels and weight.
Sweet Honey 70g:
This multi-floral honey combines the sweetness of different flowers in the region making a perfect accompaniment with anything. Savour it with your pancakes and tea.
Tropical Blossom Honey 70g:
A concoction of tropical flowers like Mango, Arecanuts, Pineapple, and Papaya in Kerala makes this honey a fruity delight. Pair it with your favorite bread and snacks for some healthy snacking!
Wild Honey 70g:
According to Ayurveda, honey from wild forests is considered the healthiest. This dark amber from the Himalayan wildflowers is the perfect balance of taste and nourishment. 
Kashmir Honey 70g:
This amber-colored, velvety honey with the most pleasant aroma comes from the valleys of Kashmir. A glass of Kashmir honey with water daily is great for detoxification and digestion!
Local Honey 70g:
Local to the tribal regions of Bengaluru, the unique taste of Local Forest Honey is a testament to its raw and unadulterated nature. It makes for a great health potion with its rich antioxidant properties.
 A collection of unique honey from across India will be a perfect gift for any season.
This year, celebrate the Raksha Bandhan with Honey and Spice! Each gift comes with an eco-friendly seed rakhi and card for your loved ones! Celebrate the bond that lasts a lifetime.